Jane Green
Secretary & Trustee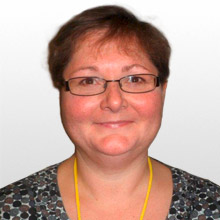 I qualified as an RGN in 1985 at Kingston Upon Thames hospital Surrey and after working on an acute medical ward went to undertake a course in Oncology at The Royal Marsden Hospital London. I enjoyed it so much that I ended up working there for 5 years both as a staff nurse and junior sister. Due to my husbands  relocation I came to work at the Prospect hospice in 1996 as a staff nurse predominantly on night duty. When the hospice at home team was developed in 2008 I was keen to be a part of this new initiative. When I joined the team as an RGN this role was my first experience of community work and I found it rewarding and challenging. Caring for patients in their own environment opened up new and different opportunities to deliver care and build relationships. I am privileged to have been with the Hospice at Home service since its inception and have seen it grow and develop into an integral part of the community services for our area.
I was team leader of the hospice at home team (Prospect@Home) based at Prospect House near Swindon Wiltshire until 2019 when I became Hospice Matron. I still oversee and manage the work of our hospice at home team, which comprises of a team of trained nurses, healthcare assistants (contracted and bank staff) and volunteers. The service offers practical nursing input, advice and support 24 hours a day, 7 days a week. 365 days a year. We care for patients in a wide range of situations including end of life care, crises care and respite visits.
In 2010 I completed Bsc (hons) in specialist practice.
Back