Lesley Spencer
Vice Chair & Trustee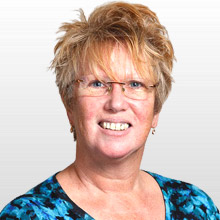 Lesley is the Director of Patient Care and Strategic Development at Princess Alice Hospice in Esher, Surrey. She is accountable and responsible for the delivery of all clinical services. She also works strategically and in partnership with other care providers and the hospices' four CCGs to ensure care is delivered efficiently and equitably across the catchment area. Lesley has remodelled the community services under the overarching name of the 'Princess Alice Hospice at Home Team' (published May 2015) in order to ensure that the service is nimble, responsive and ensures the 'right' intervention by the 'right' individual at the 'right' time. The team support 800 patients at any one time and receive approximately 3600 referrals per year covering and supporting a population of over a million people.
Lesley qualified in 1985 and before joining the Hospice in 2011 was the Nurse Consultant and Lead for Cancer and Palliative Care in a large acute Trust. Lesley is educated to masters' level and has developed experience in service redesign and change management with a focus on maintaining quality. Lesley is, a member of the RM and Partners cancer Vanguard, has experience in facilitating advanced communication skills courses and is currently a leadership scholar with the Florence Nightingale Foundation.
Lesley is also Vice Chair of the National Association for Hospice at Home Charity and is committed to supporting the work of this organisation and disseminating examples of best practice.
Back