Tracey Doherty
Chair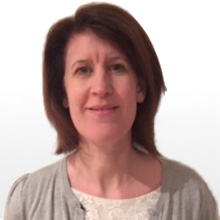 I am a Registered General Nurse of 24 years, with a drive to ensure that patients receive high quality, evidence based care. 16 of those years were spent working in the community setting as a Community Staff Nurse and as a District Nurse, with some time spent in Intermediate/ Rapid Response Nursing and Diabetes Specialist Nursing.
I worked for 5 years at my local hospice reconfiguring and managing the Hospice at Home service and was promoted up to Associate Director of Clinical Services. During this time through the Hospice at Home service we were registered with the National Association for Hospice at Home.
Since January 2015, I have worked for a Clinical Commissioning Group as an End of Life Care Commissioner. My Job role includes:
Leading on the development of health services for patients at the end of their life and/or in receipt of palliative care.

Providing the advice needed in end of life and palliative care making recommendations for future commissioning.

Overseeing the change management process required to support the implementation, integration and sustainability of the local end of life care strategy and local commissioning strategy.

Working collaboratively with stakeholders in achieving quality end of life care.
Back